CH Seafarer's Tyee (Tyee)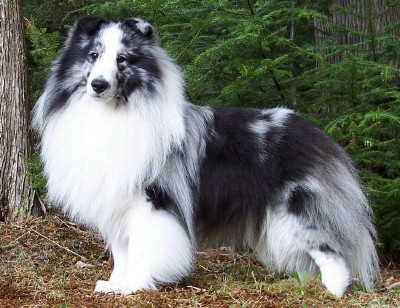 At the Maritime Group 7 Speciality, Tyee was WD ,BW ,BOS for 5 points under respected Judge Glen Stark. This was a very special win for us as it gives his dam CH Prinhill Easy Spirit her fifth CHampion. Also for his sire, AM CAM CH Apple Acres Expedition ROMC he is CHampion number 45. Tyee is a young dog who is just beginning to come into his own. We can hardly wait for him to mature.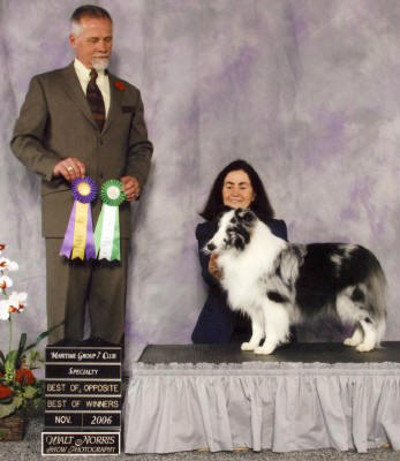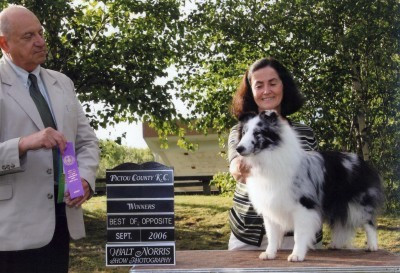 At Pictou, NS, Tyee was WD, BOS under Judge Everett Mincey. Thank you for appreciating his quality.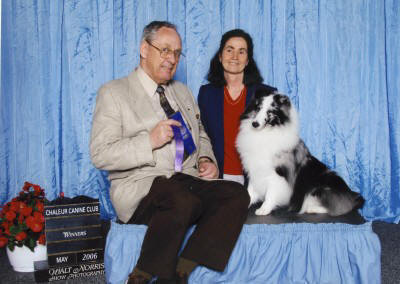 At CHaleur Canine Club in Beresford, N.B., Tyee was WD at both shows on Saturday. Pictured with Judge David Eadie. His other win was under Judge John Reeve-Newson. We appreciate both of these wins. Thank you.
Tyee Pedigree
Whelped 04 June 2005
Sire
AM CAN CH Apple Acres Expedition ROM ROMC
Sire
CH Apple Acres Odyssey Armani ROM
Sire
CH Dundee Hullston Jambalaya ROM
Sire
AM CAN CH Dundee Famous Amos
Dam
CH Hullston's All The Rage
Dam
AM CAN CH Apple Acres Hi-Fashion Model ROM
Sire
Banchory Solid Gold
Dam
AM CAN CH Apple Acres Kelnook Calais
Dam
CH Trevanne's Dominique ROM
Sire
BIS CH Homewood Hurrican AOM
Sire
BIS CH Macdega Asterisk ROM ROMC
Dam
CH Homewood Natalite Cole
Dam
CH Shadlar's Trevanne's Trivia
Sire
AM CAN CH Trevanne's Windswept
Dam
CH Shay Dee's Once In A Blue Moon
Dam
CH Prinhill Easy Spirit ROMC
Sire
CH Macdega Asterisk ROM ROMC
Sire
CH Country Lane The Energizer ROM ROMC
Sire
CH Macdega Deniro ROM
Dam
Macdega Monterey
Dam
CH Macdega Unforgettable
Sire
CH Mecdega The Piano Man ROM
Dam
Brecon Forget-Me-Not
Dam
Prinhill Puffin
Sire
CH Prinhill Jazzbo AOM ROM
Sire
Prinhill Cool Jazz
Dam
Prinhill Alabaster Lace
Dam
Prinhill Sirius
Sire
CH Prinhill Evening Shade
Dam
Prinhill Misty Blue