Laureate's Desert Gold CD (Ben)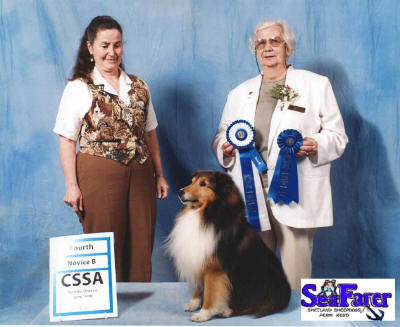 Bentley was a four-year-old with the moniker of Mr Brown when he came to live at Seafarer. Ben made some notable contributions during his time at Seafarer. One was a stronger rear assembly in his offspring, a trait that has carried down through subsequent generations.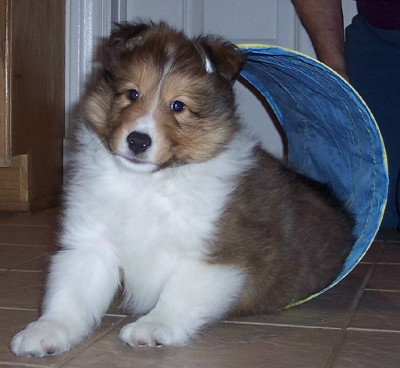 However, his most significant role during his time with us was that of a hero. In February of 1995, there was a fire that leveled our home. Bentley warned us of the danger in time for us to escape and also rescue the other 11 dogs in residence at the time. We remain grateful to Bentley for our lives and for several of the beautiful, sweet tempered shelties that are currently a part of Seafarer's breeding program. Besides the unofficial title of our hero Bentley earned his CD, finishing his title at the 1998 CSSA National. He is the sire of three champion sons ( Reggie, Raja, and Quincy) and a CDX daughter (Coral).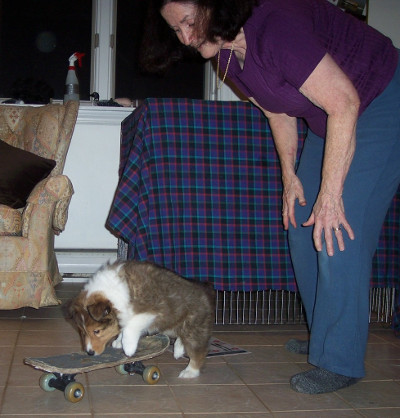 Ben did not have any littermates.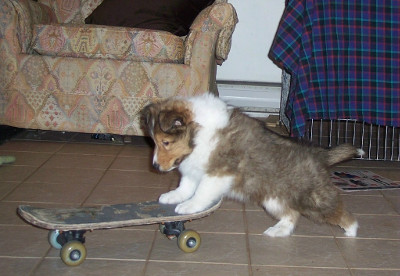 So we taught him to do things like ride a skatebaard.